NetSkill Academy's recent entry into the Indian edtech scene has caught the attention of reputable news outlets like Business Standard, amplifying our impact in the industry.
At NetSkill Academy, we're corporates and organisations to upskill their workforce and future-proof their talent pool using our AI-assisted learning platform. Our focus is on providing exceptional training and comprehensive subject-matter expertise to freshers and professionals on our dynamic platform. Our courses are designed to equip you with essential skills for success in your chosen field.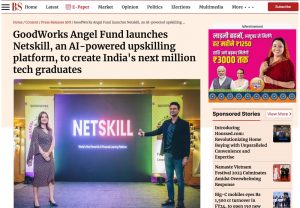 Guided by experienced industry experts, NetSkill Academy ensures an innovative approach that assures hands-on training along with a rich curriculum. This unique mix empowers trainees with an adaptive learning experience, tapping into the potential of artificial intelligence.
Read about us in the news article.